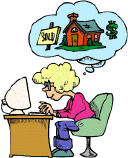 Buying & Selling
       Income Property
      Although the basics of income property transactions are similar to buying or selling a personal residence, in general,  buying and selling income property is significantly more complex and decisions require additional and different considerations.
A Certificate of Course Completion is now available for this Course.
      This e-course is designed to provide a general education in the purchase and sale of income producing real estate. However, we recommend that you complete the Valuing Income Property e-course before starting this course.  The Valuing course will help you understand some of the real estate investment concepts and related discussions in this course. Although the Valuing course is not a prerequisite to this course, understanding a property's value as an investment vehicle is critical and the Valuing course should be completed and well understood before actually buying or selling an investment property.
      This Buying and Selling Income Property e-course will take you step-by-step through the subject of buying and selling income property, including how to select a property, analyze it for profit potential, write a purchase contract, perform detailed analysis and inspection, manage it, and eventually sell it.  A pre-course quiz will test your existing knowledge of the subject and a final quiz will allow you to see how much you learned.  You may repeat all or parts of the course as many times as desired.  Some of the issues covered in this course are covered from a different aspect or in more detail in various Web pages throughout the CSES family of Webs as well as in other e-courses.
      Finally, this course includes a lot of detail so as to cover even unique and/or complex transactions.  Certain issues will not be of equal concern in all transactions, or in some cases will be of no concern at all.  If you understand the reasoning behind each issue, you should be able to judge if and to what degree an issue should be of concern in a particular transaction.
Introduction & Overview
Lesson 1 - Investment Goals
Cash flow

Resale for quick profit

Tax shelter

Long term appreciation
Lesson 2 - Using An Agent
Why Use an Agent

Expertise

Access to Market

How to Select an Agent

How to Use the Agent
Lesson 3 - Sources of Properties
Print advertising

Signs

Real estate agents

Internet

By owner

Special sources

Foreclosures

Lender owned

Tax sales

Bankruptcy sales

Other auctions

From a builder

Build it yourself
Lesson 4 - Property Selection
Lesson 5 - Pre-Offer Property Analysis
Legal Issues
Financial Analysis
Physical Inspections
Environmental Concerns
Strategy
Lesson 6 - Writing the Offer
 Lesson 7 - Post-Acceptance Analysis & Inspections
Lesson 8 - Financing the Property
General

Types of loans

Sources of loans

Finding the down payment

Using investors

What lenders need
Lesson 9 - Closing Escrow
 Lesson 10 - Managing the Property
Using a property manager
Accounting

Maintenance

Laws

Health & safety

Forms & agreements

Filling vacancies

Advertising

Screening & selecting

Keeping good tenants

Deposits & rents

Evictions & collections
 Lesson 11 - Disposing of Property
Why do it

When to do it

How to do

Marketing

Counter offers

Contingencies

Escrow

Tenant notification
Contingency cooperation
Closing escrow
Transfers & terminations
Lesson 12 - Taxation of Income Property
Rules of special interest
Estate taxes
Preparing & filing returns
Addendum - Lease Option